Our Process
We consider ourselves as a 'team player' and we are able to react to changes and revisions as your project progresses through the construction process. We will provide an efficient and cost effective steel solution to each project with an objective of keeping costs within your budget.
Whilst choosing the company to carry out your steelwork requirements is never easy, we feel we have the right partnership skills to see the construction through to a successful completion for all.
If lead times area a problem we have the flexibility and resources coupled with the drive to deliver your structure when you need it, recent projects include:
> Leeds Staircase - 2 weeks
> Liverpool Frame within existing Building - 3 weeks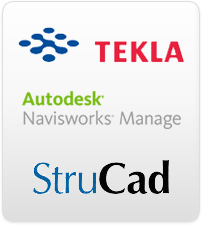 Our offices are fitted with the latest Tekla 3D and StruCAD modeling systems, creating working models that are fully BIM compliant and can be imported by the design team into Navisworks, AutoCAD, Autodesk Revit and many other programs.
It is now common place for the main contractor to integrate further trades into the structural steelwork package such as metal decking, staircases, balustrades, hand railing, walkways and other secondaries. These are all elements that we regularly incorporate into schemes and as such we welcome these inclusions. This incorporation starts with our complete structural 3D modeling and leads to fully inclusive BIM co-ordination.
We would welcome receiving any up and coming projects in order to introduce you to our tender process. Each potential contract is 3D modelled on Tekla or StruCAD and the design evaluated for cost, build ability and programme, before being comprehensively priced back to yourselves.